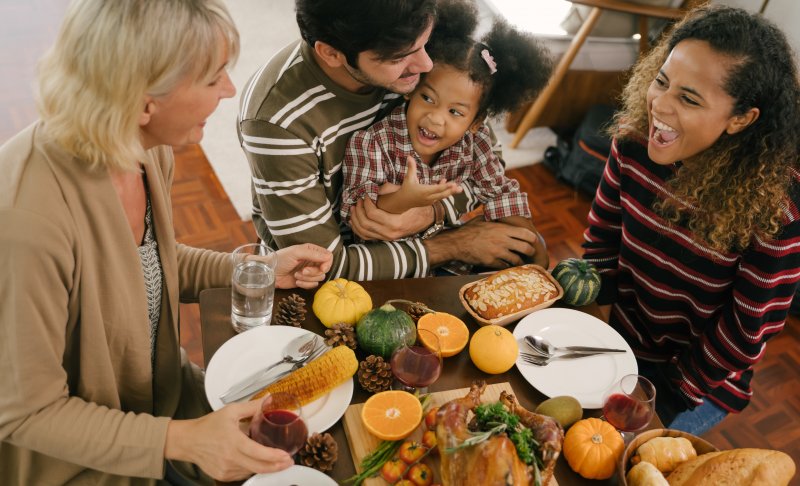 During the holiday season, wouldn't you rather spend your time enjoying family and friends, eating good food, and having endless fun? The good news is that you can as long as you remember to take care of your smile To keep your teeth and gums healthy this season, an emergency dentist in Salem shares a few ways you can spend less time in a dental office and more time with the ones you love.
Make Water Your Drink of Choice
Limit alcohol, soda and other sugary drinks. Alcohol creates a breeding ground for bacteria to build, especially when your salivary glands are not working at an optimal level. This can happen when there is not enough moisture in the mouth, allowing it to become dry. Sodas contain large amounts of sugar, which can adhere to your teeth and make it possible for bacteria to more quickly break down your enamel. By choosing to consume water, you will not only keep your body well hydrated, but you will also help maintain a healthier mouth by reducing your risk for tooth decay and/or gum disease.
Don't Forget to Brush and Floss
Whether you are visiting family or staying at home this year, you're probably indulging in the opportunity to stay up late and sleep in the day of Thanksgiving or even the day after. As a result, you may become preoccupied with movies, games, and family fun that you forget to brush, floss, and rinse your teeth. It's important that no matter what changes occur in your schedule, you maintain a routine when it comes to your oral hygiene.
Limit Your Sugar Consumption
We know it may not be easy passing on grandma's delicious pumpkin pie, but the truth is that it is probably filled with lots of sugar. Much like other desserts and side dishes at the Thanksgiving table (i.e. cranberry sauce, sweet potato casserole, stuffing), too much sugar and/or starch can stick to your tooth enamel and begin the process of creating tooth decay (cavities) . If this happens, you will need to see your dentist to determine whether you will need a filling or dental crown to address the problem. While it is best to avoid these sweet creations altogether, if you simply must have a slice, make sure to stay diligent with your brushing, flossing and fluoride mouth rinse.
Visit Your Dentist
Before leaving town for the holidays, schedule an appointment to see your dentist. This will allow them a chance to examine your smile and clean your teeth, removing any hardened plaque and tartar around your gum line. They will also provide you with helpful tips you can follow while you're away that will keep your smile in optimal shape.
Don't let the holidays ruin your beautiful smile. Take the necessary precautions to keep your oral health in check while spending more time with the people you love most.
About the Authors
Drs. Travis and Christel Cochell are a husband and wife team who own and operate Cochell Family Dentistry in Salem, Oregon. Treating patients of all ages, their office provides a wide variety of services, ensuring you and your family receive the care you need all in one place! Want to avoid a dental emergency around the holidays this year? Our team of experts can provide the tips you need to keep your smile looking and feeling its best for the remainder of 2020 and well into 2021. To learn what you can do to keep your teeth and gums free of decay and disease, contact us at (503) 585-8688.