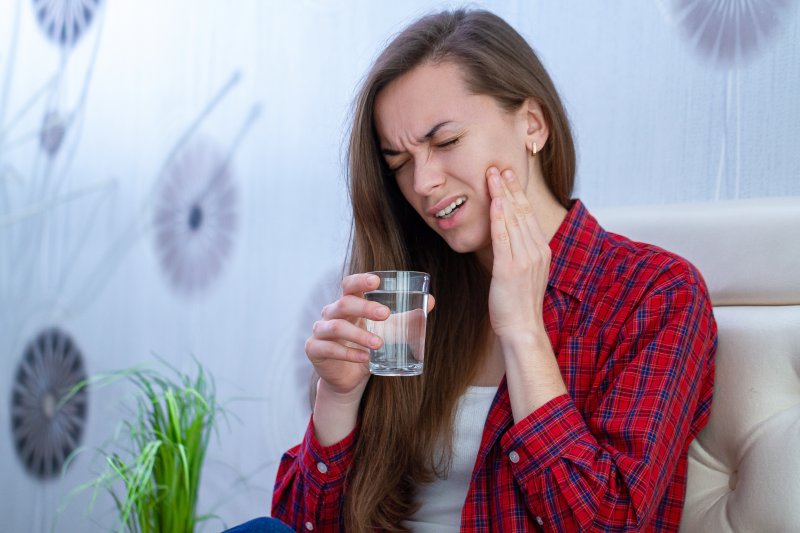 The sun is shining, and you and the family have just spent an entire day by the pool. Returning home for dinner, you sit back and prepare to enjoy the delicious meal before you. Before taking your first bite, you reach for your water and take a sip. At that moment, you feel the stinging pain radiate from a particular tooth, causing you to immediately reach for your cheek and cringe. What is happening? A local dentist explains the many causes behind tooth sensitivity and what you can do to combat it.
The Reasons Behind Sensitive Teeth
Tooth sensitivity is an unfortunate, yet, common dental problem that plagues millions of people each year. When drinking or biting into something hot or cold, sharp pains can develop around a particular tooth, resulting in the need for treatment.
But why does it happen in the first place? If the dentin layer of your tooth becomes exposed, whether as a result of tooth decay, worn down enamel or receding gums, you can experience pain when consuming something hot or cold.
There are many reasons why tooth sensitivity can develop, but some of the most common include:
Brushing your teeth and gums too hard
Tooth decay
Gum disease
Teeth grinding or clenching (Bruxism)
Professional teeth whitening treatment (This side effect is usually only temporary and should not last long)
What is the Best Way to Treat Sensitive Teeth?
Fortunately, when it comes to treating sensitive teeth, there are numerous treatments available that are designed specifically to combat this type of dental problem. Scheduling an appointment with your dentist is the first step to improving your situation and getting back to enjoying your favorite foods and drinks.
During this visit, they might recommend that you try the following to minimize the effects and alleviate the pain:
Use a soft-bristled toothbrush and a toothpaste designed for sensitive teeth
Use a gentle brushing technique to avoid damaging your teeth and gums (It may be better to purchase an electric toothbrush that will do most of the work for you)
Opt for an alcohol-free mouthwash to minimize irritation
Treatment for decay or gum disease
An occlusal guard appliance to address clenching and grinding
The desensitizing agents found in many of the available kinds of toothpaste will work to create a barrier between the nerves of your teeth and anything that might cause pain to occur.
You will likely need to use these regularly to see a noticeable difference; however, if the pain persists, your dentist can apply fluoride and prescribe other desensitizing products.
It's time to take charge of your oral health and do something about your sensitive teeth. If you're unsure of which products to use, speak to a member of your dental team to inquire about recommendations that can help.
About the Author
Drs. Travis and Christel Cochell are a husband and wife team who own and operate Cochell Family Dentistry in Salem, Oregon. When tooth pain occurs due to extreme sensitivity to hot or cold temperatures, they can provide helpful tips, products, and techniques to use that will work to combat the discomfort and get you back to enjoying your favorite foods and beverages. If you or a loved one are currently suffering from tooth sensitivity, contact us at (503) 585-8688.