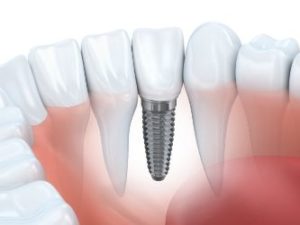 Dental implants stand out from other replacement options for one important reason: they restore the entire tooth structure, including both the root and crown. This key feature accounts for the many benefits they provide, including an incredibly natural look and feel, unmatched strength and stability, and the potential to last a lifetime. But while you may have heard that implants are often the ideal choice for replacing back teeth, what about the front teeth? In this blog, you'll get the answer to that question and find out who's a good candidate for the procedure. Learn more below!
Can Dental Implants Be Used For the Front Teeth?
Yes! Dental implants provide all the same benefits when they're used to replace missing front teeth. And, compared to a dental bridge which requires the teeth on either side of an empty space to be ground down for dental crowns, implants have the added advantage of not affecting the adjacent teeth at all. They'll also give you dramatically better chewing strength than you would get from a partial denture.
However, one consideration that may come into play is the quality and amount of jawbone in the area. Just like natural teeth, dental implants rely on bone for support and stability. Oftentimes, there naturally isn't as much bone around the front teeth as there is towards the back of the mouth. To evaluate this, a dentist will take detailed images of your jaws.
If there isn't enough bone mass present, a bone graft may be necessary before you can get implants. This procedure adds bone to the area to strengthen and fortify it, providing implants with the support they need for long-term success.
Are You a Good Candidate For Dental Implants?
Fortunately, dental implants are a good choice for most people and can be customized for various situations. Having said that, each person is unique and a dentist will look at several factors before making a recommendation, including:
Tobacco use – The success rate for implants is over 95% in non-smokers, but that drops to around 85% in smokers.
Gum health – Implants can't get cavities, but they must be surrounded by clean, healthy gum tissue for support. If a dentist finds that you have untreated gum disease, they'll recommend addressing that before you move forward with implants.
Good overall health – Getting implants requires a minor, in-office surgery. To ensure that you'll heal well, a dentist will also take a look at your medical history and overall health.
After a consultation, you'll have a personalized treatment plan that's right for you. And you'll be one step closer to restoring your front teeth and having a healthy, beautiful smile for many years to come!
About the Author
In addition to having nearly 15 years of experience as a family dentist, Dr. Christel Cochell has completed advanced training in implant dentistry through the Synergy Training Program. She recommends dental implants in a variety of situations to restore her patients' smiles, including as a replacement for front teeth. If you're interested in dental implants or have any questions, she can be reached via her website.