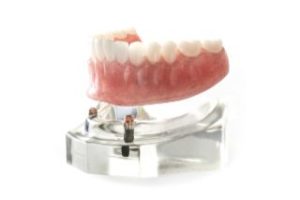 An estimated 40 million Americans are fully edentulous, or without teeth. And while traditional dentures are a welcome solution, they often come with their own set of challenges (including becoming loose or ill-fitting over time). Fortunately, however, dental implants can change that! An implant-retained denture functions a lot more like natural teeth and can improve your oral health in many ways. Keep reading below to learn about the issues people face with their dentures and how dental implants can help.
Why Do Traditional Dentures Stop Fitting?
Once the teeth are lost, the jawbone begins to change shape, becoming smaller and thinner over time. That means that the dentures that once fit perfectly are suddenly too big and start feeling loose.
Regular adjustments can provide a good temporary solution (including relines in which a dentist adds material to the base of the denture to restore proper fit). However, eventually the jaws change so much that a new denture is necessary, which is why traditional dentures only last an average of 5-8 years.
Additional Drawbacks of Traditional Dentures
In addition to the need for ongoing adjustments and replacements, traditional dentures often come with the following drawbacks:
Poor fit – Without a good fit, you're likely to experience embarrassing slips during meals and conversations as well as sore spots on your gums.
Changes to the shape of your face – As your jaws shrink after tooth loss, your face takes on a sagging or sunken-in appearance.
Difficulty eating certain foods – Hard, tough, or crunchy foods can be difficult or impossible to eat. Some people even develop stomach problems as a result of not being able to chew their food properly.
A loss of self-confidence – Not feeling good about your oral health can contribute to an overall loss of self-confidence.
Thankfully, dental implants can alleviate all these issues. And, oftentimes, just 2 to 8 implants per arch are all that's needed to make big improvements.
The Benefits of Implant-Retained Dentures
Dental implants act much the same way as natural tooth roots, which accounts for the many benefits of implant-retained dentures, including:
Implants act as strong physical anchors to keep your denture in place. This not only reduces or eliminates the need for denture adhesive but also restores around 70% of your chewing power.
Dental implants stimulate and preserve your jawbone, which means your denture will not only fit better but also help you hang onto a youthful facial appearance.
With an implant-retained denture, you won't have to worry about slips or sore spots.
Implants work well for most people and can be customized to fit your specific needs. In many cases, the procedure is even an option for someone who has already lost bone mass in their jaws, although a bone graft may be required beforehand.
With good oral hygiene habits and regular checkups, implants can last 30 years or more.
If you'd like to know if dental implants are right for you, start by seeing an experienced dentist for a consultation. After evaluating your needs and goals, they'll recommend the best treatment plan for you.
After tooth loss, dental implants are a real game-changer. They're the absolute best way to help your dentures look, feel and function like real teeth!
About the Author
Dr. Travis Cochell is a general, cosmetic and restorative dentist with over a decade of experience and a graduate of Oregon Health Sciences University. He often recommends dental implants to people with dentures because he knows they'll dramatically improve the fit and function of their appliance. If you're struggling with traditional dentures or have any questions, he can be reached via his website.