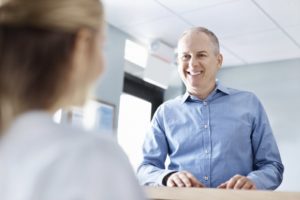 With 2018 coming to a close, it's about that time to start thinking about what annual benefits you could be utilizing before they reset. Out of all the annual benefits Americans have, dental insurance is one of the most common to go unused. According to a research study published by Lincoln Financial Group, one out of four employees with dental insurance haven't been to the dentist in the past 12 months.
So, what can you do to maximize benefits? Keep reading to find out!
Schedule to Use Preventive Services
Many people don't realize that dental insurance covers an overwhelming majority of the cost of preventive treatments until their HR representative tells them. As a result, they avoid scheduling an appointment because they're afraid that it will cost them a lot of money out of pocket. However, preventive services like exams, cleanings and X-rays are all covered under dental insurance because companies see that as you staying proactive when it comes to your oral health.
At Cochell Family Dentistry, we more than likely accept the dental insurance you have, whether it's from your employer or privately owned. Consider the list below for reference:
ODS
Cigna
Aetna
Guardian
MetLife
Principal
UnitedHealthcare
MODA
Delta Dental
Ameritas
Assurant
Standard
Reliance
Humana
There are too many to list them all, so if you did not see your insurance listed here we may still accept your insurance.  Please call or email with any questions you may have.
How Regular Visits Make a Difference
Getting into the habit of routine visits does a huge favor for your oral and overall health. Comprehensive oral exams help you catch early signs of decay or gum disease and treat them accordingly. It also gives you a chance to confirm that your current oral care regimen is sufficient.
Of course, routine visits aren't only for catching dental disease early and removing tartar and plaque. They're also ideal for catching the early signs of more serious diseases, such as oral cancer, malnutrition, cardiovascular disease and even diabetes. You'd be surprised how many markers for systemic disease begin in the mouth.
Key Questions to Ask During Your Visit
During your next visit, make sure to ask the following questions to ensure you get the most out of your experience. After all, what else are you paying dental insurance for other than peace of mind and useful information from a professional?
What services are covered under my insurance?
Have I met my deductible?
If I need major work, can I have it spread out over time to maximize benefits?
What can I do to improve my oral care at home?
Am I at higher risk of dental disease than normal?
Do you recommend any specific products for home use?
Failing to use your annual dental benefits is like giving away the hard earned money you (and your employer) worked for to the insurance company and getting nothing in return.
When it comes to dental insurance, you don't have to let it go to waste. Schedule an appointment today to get started!
About the Author
Dr. Christel Cochell earned her DMD degree from OHSU in Portland and has been practicing dentistry for over 13 years. She continues to expand her dental education in order to stay on top of the latest advancements in dental treatments and technology. To learn more about her practice and ask questions regarding insurance, you can contact her through her website.