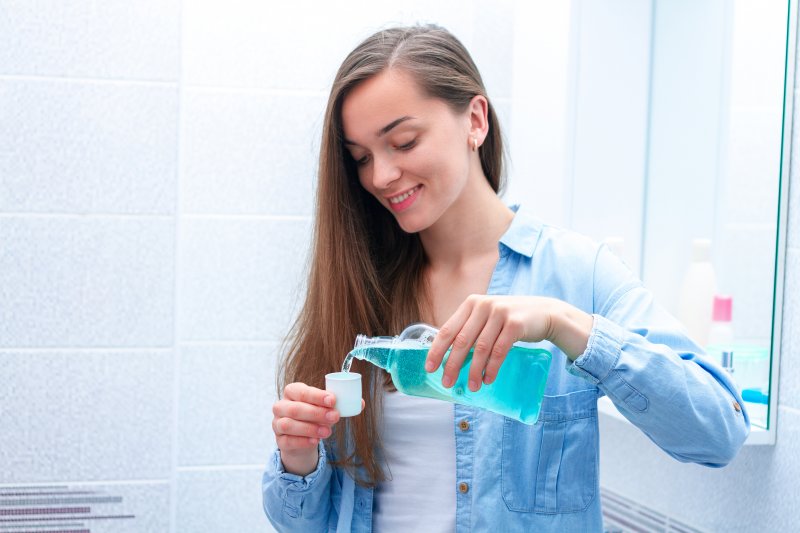 Do you regularly perform a rinse after brushing and flossing? No matter if you answered "yes" or "no," dentist offices across the country are requesting all patients to use an antimicrobial rinse before arriving for their appointment. This new safety measure is just one of many being implemented because of the continued threat of COVID-19. As this highly contagious virus remains top of mind for dentists and patients, professionals are working to ensure their practices are as germ-free as possible. Read on to learn why this simple action can make a big difference during your next visit.
How Effective is Mouthwash at Eliminating the COVID-19 Virus?
If you plan to go home and begin gargling with mouthwash regularly to potentially kill off COVID-19, you're doing it for the wrong reasons. Unfortunately, these oral rinses have not been proven to prevent you from getting the virus and are not considered to be a recommended treatment method for COVID-19.
However, by choosing to rinse your mouth as part of your normal dental hygiene regime, you will discover that your teeth and gums will benefit as well as your immune system. How is this possible? Because mouthwash is designed to eliminate the bacteria that cause tooth decay, gum disease, and bad breath.
The Importance of Rinsing Before Your Dentist's Appointment
It is far too easy for bacterial and viral infections to spread while in the dentist's office. Some of the most commonly used dental instruments generate aerosols that can be transmitted from person-to-person. Because these droplets can remain airborne for hours or even days, it is crucial that patients like yourself effectively eliminate as much bad bacteria and virus as possible before your appointment.
One way to do this is with an oral rinse. As with other bacterial infections, gum disease or tooth decay happen when harmful bacteria enter the body, which can weaken the immune system. When this happens, your body has a difficult time fighting off anything that can lead to you becoming sick.
Rinsing with a trusted antimicrobial mouthwash can rid your oral cavity of these harmful bacteria and reduce the likeliness of contaminated aerosols potentially infecting a member of your dental team or a fellow patient.
At Cochell Family Dentistry we provide you with a pretreatment rinse, in office, before each appointment. Taking a few minutes of your time to cleanse your mouth of bacteria and viruses will help to better protect everyone during this crisis.
About the Author
Drs. Travis and Christel Cochell are a husband and wife team who own and operate Cochell Family Dentistry in Salem, Oregon. Navigating the continued threat of COVID-19, they are implementing new safety protocols to better protect both patients and staff. From wearing personal protective equipment (PPE) to asking patients to perform an oral rinse before their appointment, they are going above and beyond to ensure their office remains free of harmful bacteria and viruses at all times. To find out what else you can do to prepare for your upcoming visit, contact us at (971) 273-5910.