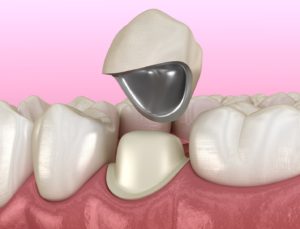 Dental crowns are an essential part of modern dentistry. They can save damaged teeth from extraction and help patients regain full dental function. They can even play a role in replacing missing teeth altogether. But all crowns are not created equal. These types of restorations can be made out of various materials, each of which has its own unique advantages. Let's discuss some of these materials so you can make an informed decision about the construction of your next crown.
Metals
Metal crowns may be made out of gold or silver alloys. They can even be constructed out of base metals, such as nickel or chromium. The primary advantage of metal crowns is that they are extremely tough and durable; they are unlikely to ever crack or chip. They are also quite thin, which may mean that minimal tooth preparation is required.
However, metal crowns do have some significant drawbacks. One is that they look nothing like natural teeth. Another is that some patients have allergic reactions to them. If you do opt for a metal crown, gold may be your best choice because it has a low reactivity to conditions in the mouth, and it is soft enough that it is unlikely to damage the opposing teeth.
Porcelain-Fused-to-Metal
Porcelain-fused-to-metal crowns, which are sometimes simply called PFM crowns, can offer the strength of metal and the beauty of porcelain. The porcelain, which is shade-matched to blend in with the surrounding teeth, covers a metal inner layer.
While PFM crowns can look quite beautiful at first, they could lose their natural appearance over time. The edge of the metal portion may become visible, causing a dark line to appear near the gums.
Ceramic Crowns
Ceramic crowns are the most popular among patients who are concerned about aesthetics. They can be made in several different materials, including porcelain, that bear a strong resemblance to natural tooth enamel and can make it virtually impossible for onlookers to tell if someone has a crown. Other advantages of ceramic crowns include:
There is virtually no risk of an allergic reaction
They can be durable enough to last for 10 years or longer in most cases.
The materials are nonporous, which means that it is extremely resistant to stains
Ceramic crowns are generally the best choice for patients who are getting a crown on a tooth that is easy to see when they smile. However, a dentist may recommend a metal crown if a molar is being treated because molars have to withstand a huge amount of chewing force on a daily basis. Metal is less likely than ceramics to suffer damage under such circumstances.
Several different materials can be used to create dental crowns. Your dentist in Salem can help you compare your options so you choose the one that is best for your unique smile.
About the Dentists
Drs. Christel and Travis Cochell are a husband and wife dental team who are both originally from Oregon. Both earned their dental degrees, Doctor of Dental Medicine, at OHSU in Portland well over a decade ago. Today, they proudly offer a broad range of services, including dental crowns, to residents of Salem and nearby communities. To learn more about them and how they may be able to help you enjoy all the benefits of a healthy smile, contact our office at 503-585-8688.