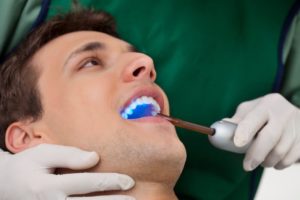 If you have had fillings placed before, you were likely told that the fillings were made from metal materials. Silver (amalgam) fillings have been the standard in dentistry for many years now, but that doesn't mean they aren't without their drawbacks. Luckily, there is another option you should consider.
Instead of using metal, tooth-colored fillings use a composite resin material made from glass and plastic. If you're concerned about the appearance of your teeth , you'll want to keep reading this blog post on the many benefits tooth-colored fillings can offer.
A More Natural-Looking Smile
Silver fillings have offered reliable durability, but at a price. For one, silver fillings can tarnish and appear black over time.  They can cause teeth to appear  more grey in color and that is not  pleasing to most people. While they restore teeth and make daily functions easier, they can cause aesthetic concerns in some locations.
Compare that to tooth-colored fillings which can be shaded multiple colors in order to better match your existing teeth. By the time they are packed inside your damaged tooth, properly shaped and molded, and finally hardened with a curing light, you won't remember where the filling was placed. You can smile all you want without worry of anyone noticing your restorations.
Retain More Tooth Structure
When you have a cavity the damaged tooth structure needs to be removed.  Because silver fillings require a certain amount of thickness and filling design for strength, a greater amount of tooth may be need to be removed.   While this  may sound counter-productive, it's necessary for making sure that the filling stays secure for several years.
Alternatively, composite resin is bonded to the tooth structure when placing dental fillings. Therefore, it's far more likely that the dentist will not have to remove as much  tooth structure just to make sure the filling stays secure.
Cavity Prevention
Prevention is the best medicine.  The best treatment that we can provide is education and giving you the skills to prevent tooth decay and other dental diseases.  Decrease your risk by:
Brushing 2 times a day with a fluoride toothpaste
Flossing every day
Eating healthy
Visiting the dentist regularly
About the Practice
Cochell Family Dentistry uses tooth-colored fillings to repair teeth in just one appointment. To learn more about their practice or restorative treatments, you can contact the dentists through their website.